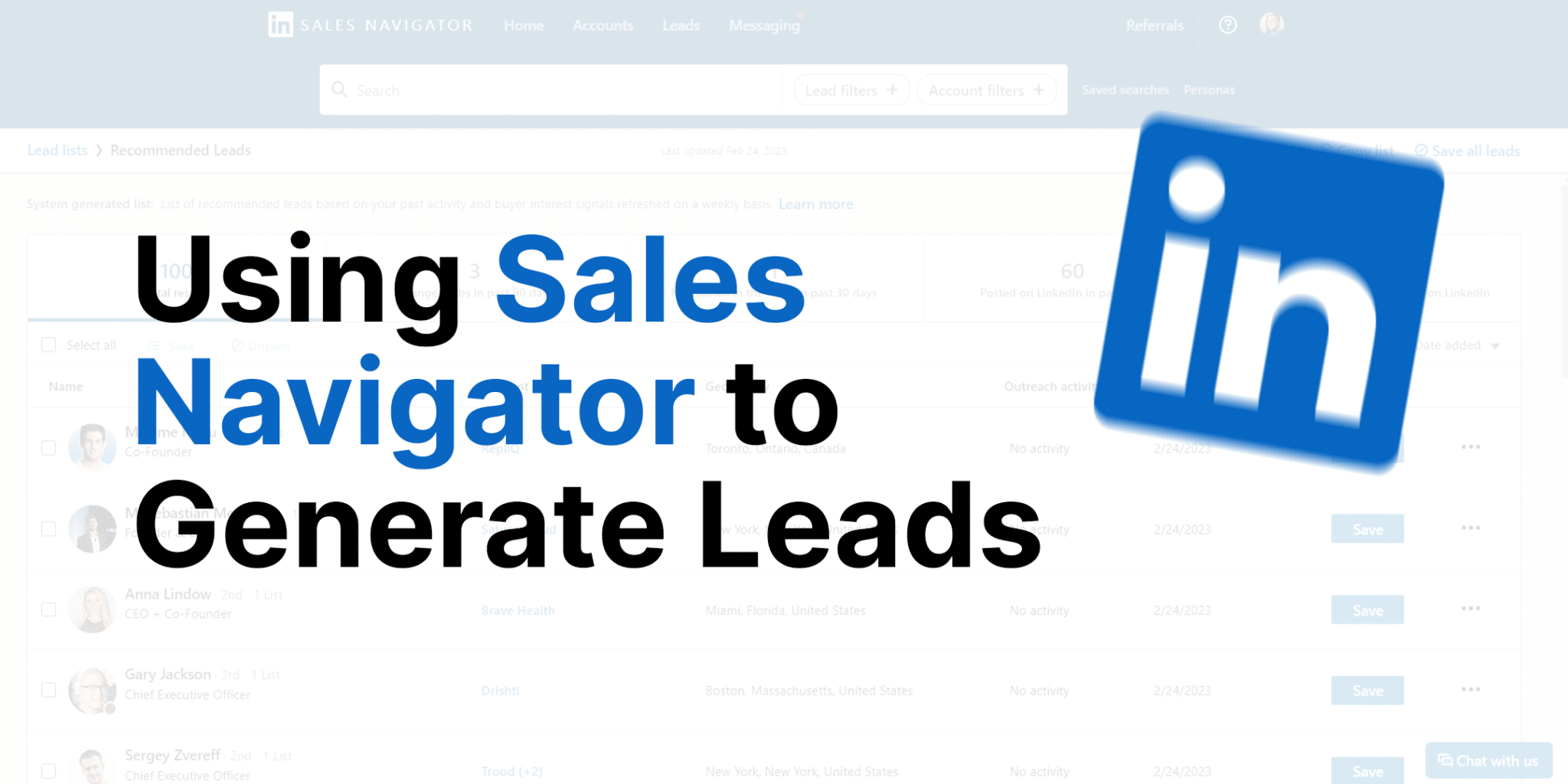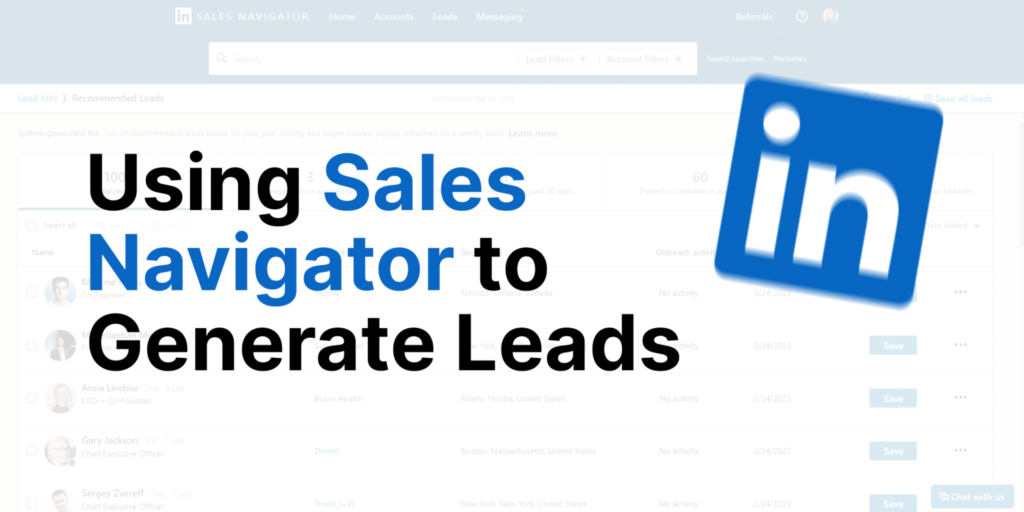 Using Sales Navigator to Generate Leads 
It should come as no surprise that LinkedIn Sales Navigator is a popular tool amongst sales professionals and marketers. The platform's features offer users access to advanced search filters, lead recommendations, insights and CRM integration. These features make LinkedIn Sales Navigator one of the most powerful tools to find and connect with prospects, helping you to generate leads with ease. As LinkedIn is already known as the world's most powerful B2B online platform, with Sales Navigator you can increase the value LinkedIn offers. LinkedIn Sales Navigator is a must-have tool if you want to streamline your process and effectively generate leads. Let's focus on what it is first before getting into how you can utilise Sales Navigator to generate leads. 
What is LinkedIn Sales Navigator?
LinkedIn Sales Navigator allows you to create highly targeted lists that help you to differentiate between active and inactive prospects. This essentially gives you the ability to identify your ideal target audience with ease, saving you time and effort.
Although LinkedIn Sales Navigator offers 3 subscription options with ranging price points, they all offer features that aim to make relationship-based selling easier by helping you create lists with potential prospects.
So now we're on the same page about what LinkedIn Sales Navigator is, let's talk about how you can use the tool to generate more leads than ever before. Here are 4 features you should be utilising regardless of which subscription plan you're subscribed to. 
Advanced Search
Compared to the 18 search filters offered on a standard LinkedIn search, Sales Navigator offers you 30 search filters and an unlimited number of searches. You may think this many search filters are a little excessive, however, once you understand how to use these filters effectively, it won't be long before you start generating consistent leads.
Research is important when you're looking for prospects. With Sales Navigator, you become privy to important information you wouldn't have access to on a standard LinkedIn search. Advanced search filters include information such as job changes, seniority level and even company size. These filters not only assist you in finding the right prospects but also help you to send relevant personalised messages.
The additional search filters on LinkedIn Sales Navigator are valuable and a key element to provide you with suitable prospects. When you select your criteria strategically, you'll be able to search with intention and highlight your ideal prospects from the crowd, making your outreach more accurate. 
Recommended Leads
The lead recommendations feature on Sales Navigator provides you with a list of up to 100 auto-generated leads. Sales Navigator creates this list by analysing patterns based on your sales preference, search history, and profile interaction. If you want to get an accurate recommendations list from this feature, it's important to know your target audience.
Leveraging this feature on Sales Navigator identifies potential leads for you that not only fit your ideal client profile but also provide information about their buyer intent. Ultimately saving you the time and effort you'd normally spend on prospecting.
This Sales Navigator feature generates high-quality leads for you, so all you have to do is work on your messaging and outreach to prospects. It's a great addition to improving your lead generation process and increasing your sales output because of the fact that you're able to reach more of the right prospects and save time. 
Account List
Account lists on Sales Navigator are collections of LinkedIn accounts that match specific criteria, such as industry, job titles, locations and more. Using this feature on LinkedIn Sales Navigator lets you filter and recognise potential leads, making it easier to reach out to them with personalised messaging to increase the chances of converting them into clients.
Not only does this feature make it easier to track your list of potential prospects, but you can also use account lists to create targeted marketing campaigns. You can focus these campaigns on industries or accounts to help you reach the right people and the decision-makers or key influencers in your target market.
With valuable insights into companies and individuals on your list, the account list feature on Sales Navigator provides you with a strong foundation to tailor your outreach and build more meaningful relationships with potential leads. Account lists on Sales Navigator help you to stay organised, focused, and efficient in your process of generating leads and building substantial connections with prospects. 
Intent Data
The intent data feature on LinkedIn Sales Navigator refers to the signals and insights that indicate a potential lead's interest in a product, service or industry. By leveraging intent data, you can identify and engage with leads more likely to convert into clients.
This feature uses information about an account's LinkedIn activity to help you understand which leads are actively looking for your service or product. By identifying this early, you can focus your efforts on high-value leads showing interest.
But does intent data still work if the account isn't 100% ready to purchase? The short answer is yes, which is why intent data has made it to this list. LinkedIn Sales Navigator's intent data feature generally helps you to see who is ready and even who isn't. But with this knowledge, you'll be able to nurture these leads whether that's with your content or targeted messaging. Sales Navigator's aim is to help you build relationships with prospects. If your nurture these people who may not be 100% ready, you can increase the likelihood of conversion over time. 
Generating Quality Leads
These 4 LinkedIn Sales Navigator features will help you to generate leads. Sales Navigator is an effective tool that'll save you time and effort by providing you with features to find high-quality leads, making it easier for you to focus on building relationships with prospects. As well as helping you to stay organised and focused, Sales Navigator offers you trustworthy insights to identify prospects. It's not just about the number of leads, it's about the quality, and with Sales Navigator, you'll be able to generate leads with the right people.