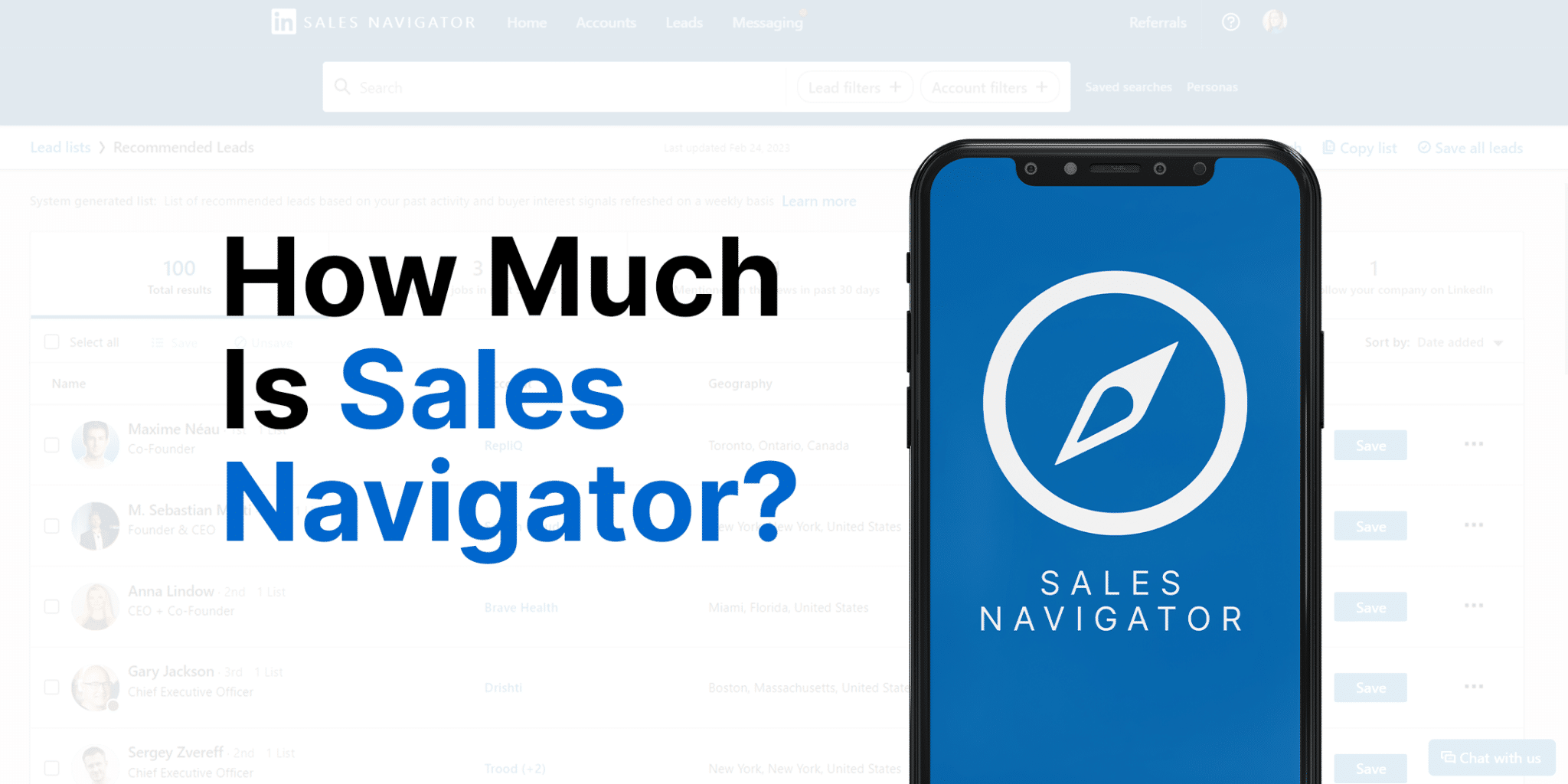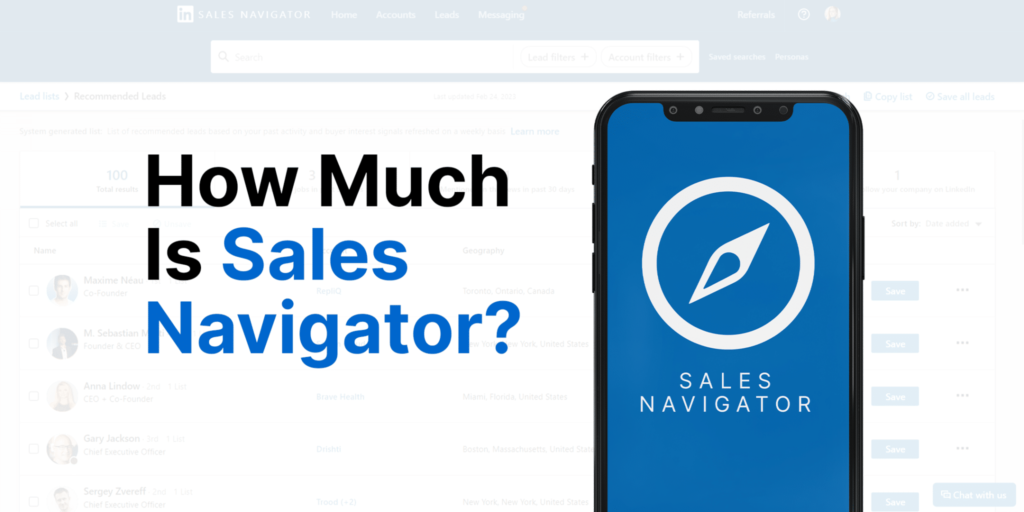 How Much Is Sales Navigator?
If enhancing your lead generation and enhancing your network with potential clients is important to you, LinkedIn Sales Navigator is worth the investment.
Over the last few years sales management techniques for sales professionals have advanced. However, with features to ease relationship-based selling and overall help salespeople generate more qualified leads, LinkedIn Sales Navigator is still recognised as one of the most effective sales management tools.
The only questions left are how much is Sales Navigator and what is the right plan for you.
In this article, I'll break down the differences between Core, Advanced and Advanced Plus and hopefully, by the end, you'll be able to identify which plan is the right one for you and your team.
Sales Navigator Core
As the most cost-effective plan, Core offers professionals the foundational features of LinkedIn Sales Navigator.
Core is designed for professionals, helping them to leverage the power of LinkedIn data to prospect smarter.
While Core offers the foundational features, users are able to find new buyers at accounts, communicate with leads through InMail and receive relevant alerts. The top features of Core are:
Advanced lead and company search
Alerts on your saved leads and accounts
Ability to create Custom Lists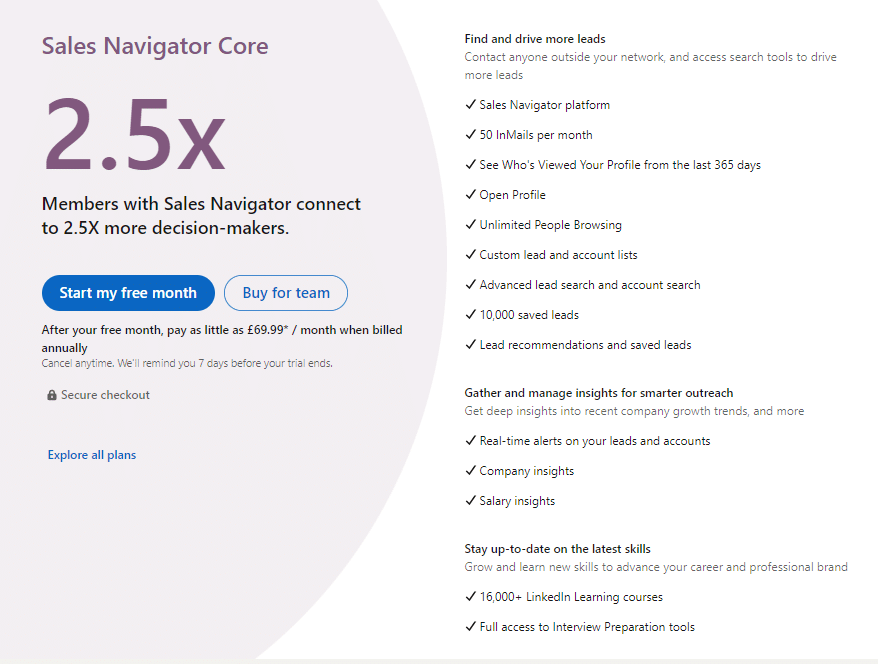 So how much is it?
Core is the ideal plan for marketing and sales professionals who want to extend their search and filtering capabilities. With access to a free 1 month trial and the option to pay monthly or annually, Core is priced at £66.01 per month or £792.08 per year.
Sales Navigator Advanced
Designed to empower sales teams to collaborate and optimise LinkedIn, Sales Navigator Advanced is the second subscription plan. Sales Navigator Advanced is the best plan for non-CRM syncing customers.
With Advanced, your team are able to collaborate with Shared Lists, get insights with Buyer Intent, share content and gain insights on customer interest.
The top features of Advanced are:
Ability to share content and track engagement
Warm introductions from teammates
Alongside these top features, Advanced gives you three additional benefits:
Smartlinks
Team links
CSV Upload
Now, how much is Advanced?
Due to the added features, Advanced is priced slightly higher than Core. However, in comparison to Core, you still have access to the 1-month free trial, the option to pay monthly or annually and the ability to cancel anytime. Advanced is £108.3 per month or £1,299.67 per year.
With all of these extra features, Advanced is essential for sales teams and will help you utilise LinkedIn. These additional features allow your sales team to boost their reach and engagement with your market.
Sales Navigator Advanced Plus
Supporting enterprise-grade functionality, Advanced Plus is the highest subscription plan available.
Not to be confused with Advanced, LinkedIn's Sales Navigator Advanced Plus is the only plan that allows for CRM integration with Salesforce and Microsoft 365 Sales. This plan is designed to create a seamless experience between LinkedIn Sales Navigator and CRM allowing you to upgrade the CRM sync so they have the ability to autosave and upload people directly from Sales Navigator Advanced Plus.
In addition to the features you get with Sales Navigator Advanced, the top features of Sales Navigator Advanced Plus are:
CRM updates with Data Validation
Integrate CRM contacts
Advanced enterprise integrations
Advanced Plus also includes extended features that save your sales reps time and ensure the most relevant sales activities are captured accurately. With this plan, contact data is automatically updated for you to view LinkedIn Sales Navigator profile details directly from your CRM.
How much is Advanced Plus?
To find out the cost of Sales Navigator Advanced Plus, you need to request a demo from LinkedIn Sales Solutions.
The Comparison
Now you understand the pricing differences and who each plan is for, here are the listed features for each plan: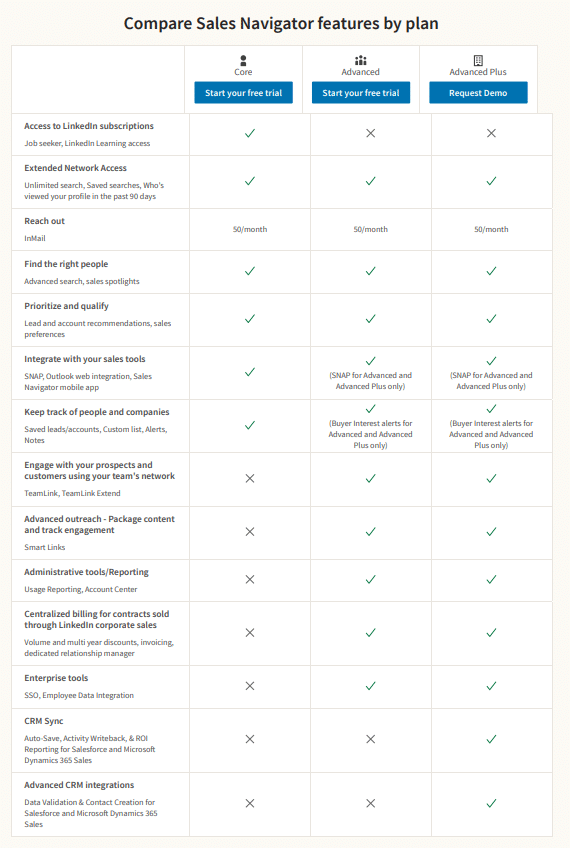 Which is the best option for you?
If you have more than one sales rep, try Advanced and Advanced Plus so your team can utilise the team functions to prioritise leads.
Having said this, pricing and plans depend on your needs. Each of these plans enhances your search to help you find the most relevant prospects in your market. If you want to free up time for selling and identify ways to build rapport with your prospects, Sales Navigator is worth the investment.