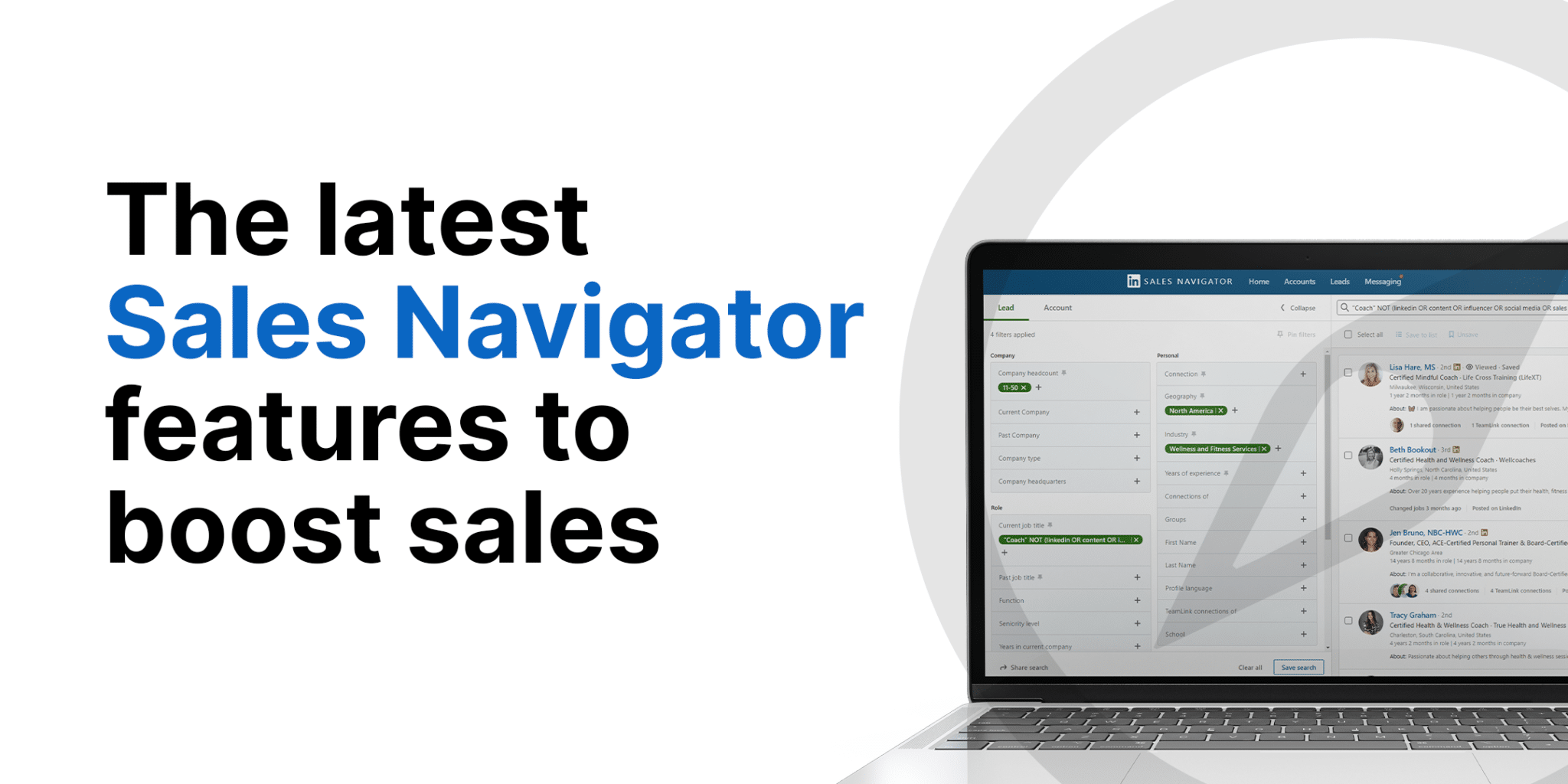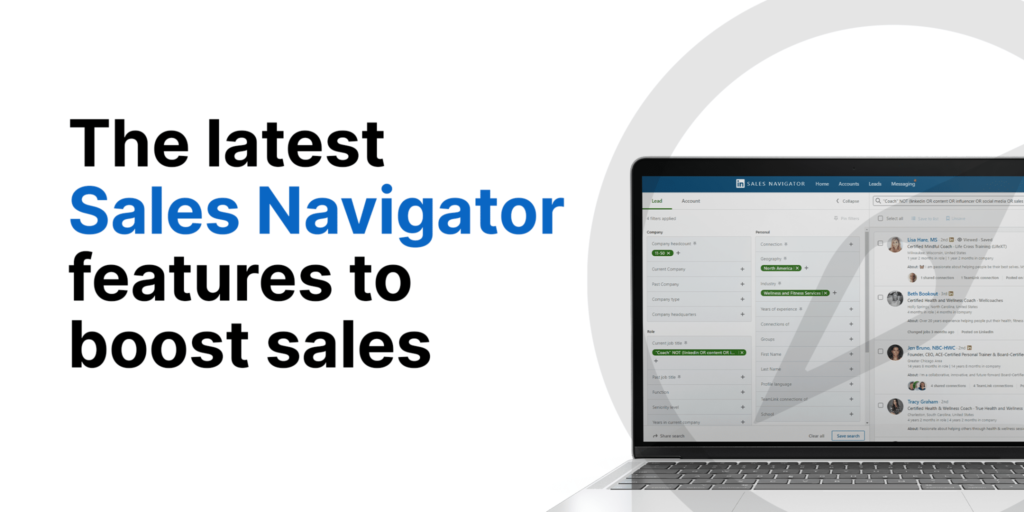 The latest Sales Navigator features to boost sales
By now, you might be aware that LinkedIn has released its latest features and updates to Sales Navigator. These new updates are designed to assist you in your sales process helping you to sell better and sell smarter.
Firstly, the statistics don't lie and there's no doubt that sales has changed significantly over the last few years. But to understand why these new features are important, we need to recognise the changes that have caused this shift in sales.
The Stats/ Sales Has Changed
Remote working has had a pretty big impact on sales. While remote working has been around for a while, the surge of more companies getting involved in this way of working has led to new challenges for sales reps. such as contacting prospects due to GDPR policies. However, GDPR isn't the only challenge. Due to remote working, less than 30% of sellers are relying on cold calling. Meaning they've had to change their sales process. This is understandable as the number of people working in offices has decreased, meaning there's no longer a guarantee of high-quality data with the correct contact information of prospects.
Cold calling hasn't necessarily gone away, sales reps are just finding it harder.
Having said this, sales outreach volumes have globally increased by 70%. The traffic from cold calling has reinvented itself to cold outreach through email and LinkedIn. Because of this and the current economic situation, outreach response rates have fallen by 30%. That's the case on LinkedIn, email and cold calling which sets the scene for a challenging sales environment as decision-makers are more conscious about making the right decisions.
Sales Navigator's New Features
To counteract the challenges salespeople are facing, LinkedIn has stepped in with new features. They've developed updates you can leverage to open opportunities for your business ensuring you have an effective sales process. Especially
They have developed updates you can leverage to open opportunities for your business. These updates will help you to strengthen your sales process against the statistics and the current economic climate.
Buyer Persona
The Buyer Persona feature allows you to programme the persona of your ideal prospects on LinkedIn Sales Navigator. Whether you want to interact with managing directors, CIOs, Chief Marketing Officers etc, you'll be able to basically tell LinkedIn "these are the people I want to work with".
This is an intelligence feature. One that will allow you to create super-targeted lists ensuring you're reaching out to the relevant people. It'll help you to have relationship-driven conversations with them. Instead of hunting for the right people, this new feature will help sales reps save time. As they'll be able to natively programme their target's personas into Sales Navigator.
Recommended Leads
Found at the top in the Leads section of Sales Navigator, Recommended Leads is another new feature. Sales Navigator will now automatically populate your lead lists with people who show an interest or curiosity in your business and also with people who are receptive and match your buyer persona. You'll be given up to 100 new leads a week to add to your lists which you can save or dismiss as you go to help Sales Navigator give you more accurate results. While you might not get specific levels of interest from these recommendations, you'll get valuable insights as to who's interested in what you offer.
New to Saved Accounts
New to saved accounts is another feature that'll give you intelligence to help you make informed decisions. This feature will provide you with a list of all the new people who have joined the companies you are targeting. Rather than wasting time to find the person you were prospecting has left the company, this new feature gives you access to easily find people who have changed roles and any new decision makers who may have joined the company.
Buying Intent
Sales Navigator aims to make relationship-based selling easier by providing you with the tools to connect with the right people. For this reason, the new buyer intent feature is a great addition to the platform.
Using LinkedIn's trustworthy intelligence, buyer intent uses an algorithm to detect accounts that have engaged with your company. This then scores those accounts as 'moderate' or 'high' depending on their intent.
If your sales team focus on this and combines a relationship-based approach with buyer intent data, they'll be able to outreach fewer people but receive higher results from their efforts. This is because their outreach will be focused on reaching out to the right people who are already aware and interested in your offer instead of prospecting random accounts and hoping for the best.
Sales reps who are combining a relationship-based approach with buyer intent data are outreaching fewer people but receiving higher results. Their focus has shifted to building relationships with people who show buyer interest. They are selling more and spending less time finding the right people as LinkedIn is showing them who is actually interested in the service or product they provide. Without this process, sales reps are left to spend time sending thousands of messages and hoping someone from their data list bites.
Uploading your list from your CRM
Another way you can use the buying intent feature to your advantage is by uploading your list from your CRM. This provides you with a space dedicated for all of the companies you're targeting to be scored by the same buying intent.
These new features on Sales Navigator can benefit your approach and overall improve the effectiveness of your process. Salespeople need to be more focused when prospecting if they want to hit their targets and these features allow you to do exactly that.
If you want to know more about how you can implement these features into your sales process, feel free to get in touch.