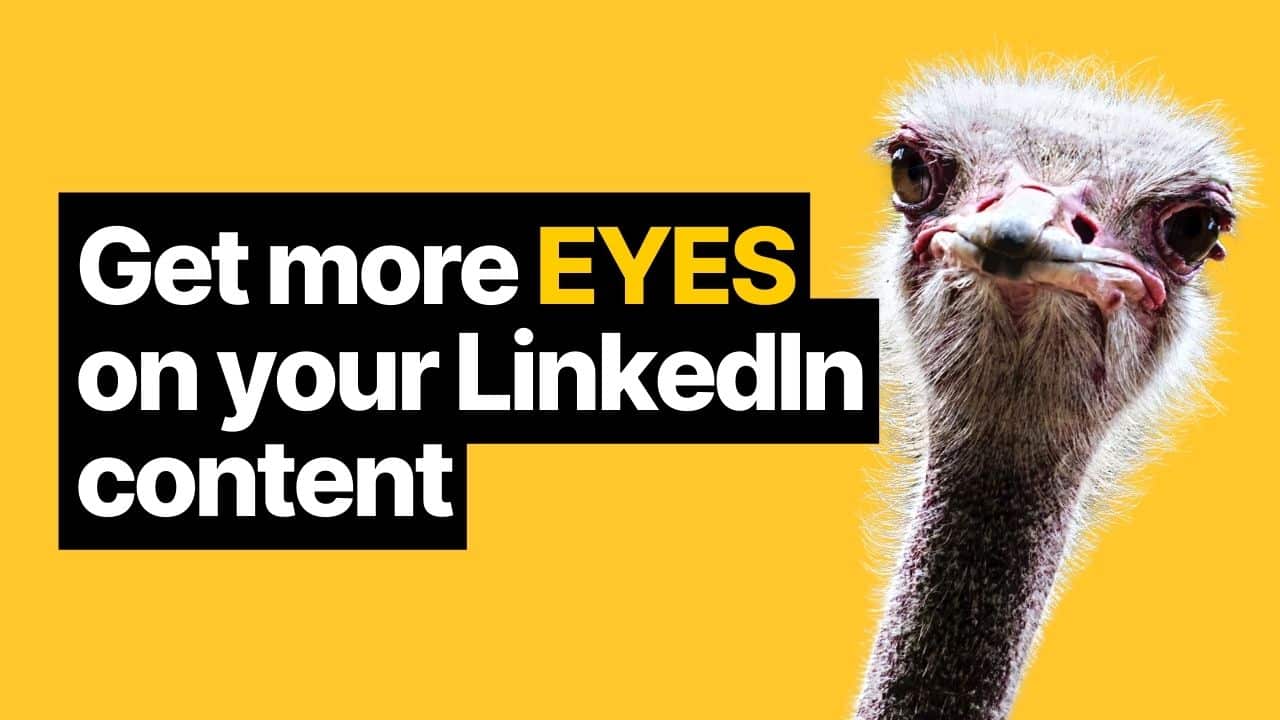 Get More Eyeballs On Your LinkedIn Content From The Feed
I've been asked this question a lot. So I'm devoting an article to it. As I travel around delivering keynotes and training sessions. I'm asked this one question every time. How do I get more people to see my LinkedIn content in the feed?
It can be awfully frustrating if you are putting posts out and they aren't getting attention. There are tons of hacks which can give you short-term results, but I want to share some which have worked for me and helped me get more reach, visibility and engagement.
So, I'm going to give you 3 things you can do right now to improve your visibility and the attention you get from people scrolling their feeds.
If you combine the 3 tips together, I'm confident you'll see massive results.
The Ronseal Strategy
Ronseal is a pain and varnish manufacturer who rose to fame with their slogan "it does exactly what is says on the tin". Their strategy was to make everything simple and clear as to what their product does. Ronseal claims that slogan made them a brand leader.
So, how do you adopt this strategy into your content to get more visibility and attention in the feed?
Simple, clearly and unambiguously tell people the value of the post for them upfront.
Do it bold, clear and in their face.
In other words…
"It does what it says in the feed"
Here is an example…
There are two elements that make this work.
The first is the bright colours to help catch people's eyes. The second is the big promise of value which is clearly pointed out.
You are helping people to quickly decide if this content is of use to them.
Now let me show you a bad one…
Why is this a problem?
It's a nice picture. But it doesn't help you stop people scrolling unless they love castles.
It's curiously vague.
Making your value clear and obvious in the feed like my first example, will help you to not only stop people from scrolling past your LinkedIn content in the feed, it will make sure that the people who resonate with the value, stop and pay attention.
Actions:
Bold and Bright Imagery in the feed.
Make your Big Promise of Value Clear
Double Scroll
This might seem like a really obvious one, but if it takes longer to scroll past, it's more likely people will stop and pay attention.
Which one do you think will be harder to scroll past?
Physically, it will be the right hand one, simply because it takes a bigger scroll.
Hashtags
I do something many don't with hashtags. I do something totally different to what most people think they should do with Hashtags.
I look for the hashtags my ideal clients are likely to be following. Then I use those hashtags irrespective of what the content is about.
You'll have seen this.
Marketing Consultants posting about marketing and using #marketingstrategy. Copywriters using #copywriting.
Why is this stupid?
Well, who do you think is following those hashtags?
Who do you think is posting into them?
Competitors!
I see this all the time, content writers and personal branding gurus and all the comments and engagement is from people who do that very thing.
So, I don't use #socialselling #personalbranding or #LinkedIntraining because I'm not selling to people who do what I do.
I'm selling to technology companies, salespeople, marketers and solopreneurs. It might be way easier to get engagement from competitors and those in my industry, but it won't help me pay the bills.
So, here is what to do…
Look through the hashtags in the search bar, you'll need to do some research and do this multiple times.
Click on the hashtag and see how many are following them.
Choose 10 which you believe your ideal clients may be following. You should mix them between very narrow ones 1k – 10k followers and larger ones 1m+ followers.
You'll have to use a 'best guess' as there is no way to see who is following. But, if they are a CIO or CTO you can bet they are following technology. Just think about what their main responsibilities are and use that as a guide.
Use 3-5 on each post.
This strategy will help your post get seen more widely outside of your network and be discovered by more people.
Be careful about using too niche hashtags. Promoting your content to 5 or 6 people won't help you much.
These three simple tips will massively increase your LinkedIn content views in the feed. They'll also help you to get your content in front of more of your ideal clients.
Like this article?
Here are two things you can do next…
Share this in your own feed. Tell others what you found useful.
Check out my ContentLab for LinkedIn Mini-Course, where I show you how to Create 100+ pieces of content for LinkedIn in just 30 minutes that are designed to attract, nurture and convert like crazy!
Grow With Our Micro Courses
You may have noticed that selling business to customer, or B2C, is very different from selling to a business. If you haven't noticed then you probably only deal with one
Fully completing your LinkedIn profile is essential. It gives you greater visibility and reaches on the platform. You will see a dramatic increase in your profile and content views when