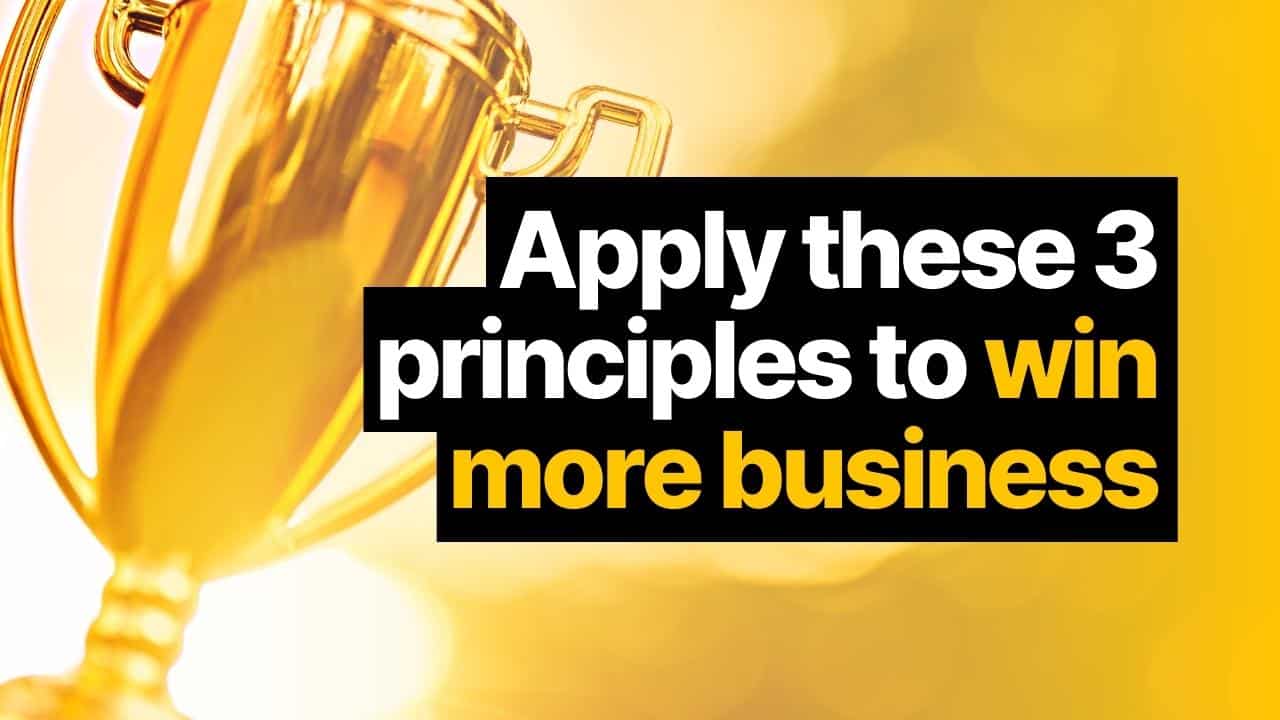 Apply these 3 principles to win more business
I've put together 3 of the principles I use and teach to my clients to help them be more successful in their content and sales outreach.
There is no denying it, it's more difficult to win business today than it was 10 years ago.
What is also true is that, with the near saturation of sales and marketing advice, services and tools, there is a ton of conflict between methods and strategies.
What I've done below is document 3 principles, which pretty much everyone would agree with and given my two cents on how I recommend people apply them.
21 touchpoints
It now takes 8 touchpoints to get a meeting with a prospect and 21 to close a sale. If you know this going into selling, especially using digital channels to win new business, you should design your sales strategy with this in mind.
In my own training, I talk about the 7 steps of social selling. This is a process to engage a prospect to then win a meeting with them from LinkedIn. Unlike many, I focus on digital rapport-building rather than a cadence of sales messages.
Once that meeting is booked, you need to engage a prospect multiple times in order to ensure that deal is shaped and fits the clients needs.
Most people just give up too quickly.
Some thoughts
Engaging with content and interacting on social media is a powerful and low-key touchpoint.
Pre-sales call touchpoints don't have to be salesy, they can be rapport-building.
The more you engage with a prospect on LinkedIn (no sales pitch) the more likely they will see your content in their feed. Content and comments can be touch points too.
7 Hour Rule
To build a thought leadership platform, gain large-scale reach and win business solely from content (no outreach) – you need to understand the 7-hour rule.
The rule basically says that it takes 7 hours of consumption for someone to become a die-hard fan of you, your content and your mission.
If you want to monetize your social media or use your socials to bring in business without outreach, you have to prolifically share content.
But not just any old stuff, things which showcase who you are, the mission you are on and the key problems you solve for people.
You've got to be tightly focused so that people can see how you can help them.
Darting around from audience to audience, mission to mission just won't work.
Some thoughts:
Video can connect you more quickly with an audience as you will show your expertise, passion and personality better.
Most of the people who worry about oversharing (putting out too much content) aren't putting enough out. Think daily.
Don't tie yourself up in quality vs quantity, you need the quantity to find the quality. Just get on with it and review your progress – you'll improve along the way.
Cross-Channel Strategy
I can count on one hand how many times I've seen this done well. Cross-Channel Strategy is a way to engage your ideal clients and potential customers across multiple channels.
In most cases, what I see is poor practice.
It goes like this…
Connect on LinkedIn.
Send a friendly thank you message
Wait a day, send a sales pitch by email
Follow-up email 3 days later
Attempt a call to a decision-maker
Follow up DM 7 days later
It's simply a connect and pitch, with a little sophistication. Let's be honest for a minute… It might help you get attention a little bit better than a cold pitch, but it is still pestering someone to get a response.
Experience has told me that if you have a non-sales conversation with a prospect on LinkedIn, your chance of a meeting goes to 1 in 4.
Yet, most people will focus on repetitively emailing pitch-style emails.
Let me show you an alternative…
Day 1: Engage on LinkedIn (no pitch)
Day 3: Engage on LinkedIn + Connect with a personal message (not generic rubbish)
Day 5: Thanks for connecting (no pitch)
Day 7: Engage on LinkedIn (no pitch)
Day 11: Email Conversation Opener
Day 14: Engage on LinkedIn (no pitch)
Day 17: DM Conversation Continuation
Day 20: Engage on LinkedIn (no pitch)
Day 23: Email to arrange time to speak
Day 27: Engage on LinkedIn (no pitch)
Day 32: Email / DM Chase up for meeting
This is a truly cross-channel approach, which factors in 8 touchpoints, 50% of them are rapport-building and so you don't have to annoy people by just circling back etc.
Most cross-channel strategy isn't joined up and doesn't do anything to build rapport. This approach is long-winded as it's more difficult to automate but significantly more successful.
The key to a strategy like this is combining relationship building with your outreach objective. Having a relational conversation with a prospect prior to sales outreach massively increases your chances of success.
If you want to know more about how I can help you win more business without hard selling your prospects, schedule a call with my team
Grow With Our Micro Courses
We all love the world we live in. We all love buying goods that make us feel good. Wouldn't it be brilliant if we could do what makes us happy
Nowadays, digital forms are everywhere on the internet. So, if you aren't already utilising them – why not? And if you are, have you heard of 'Lead Gen Forms' on