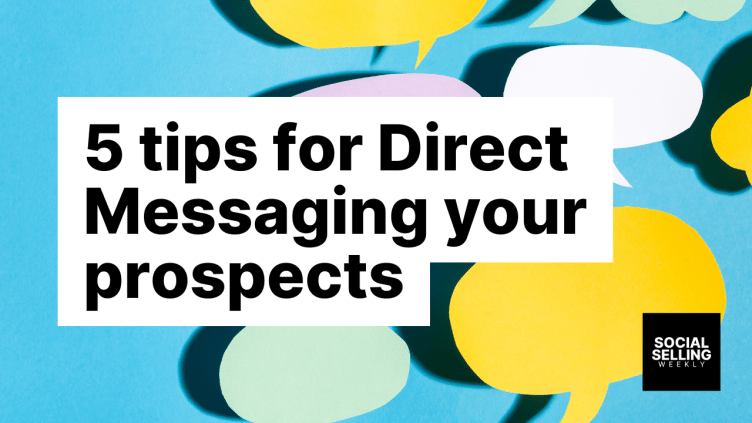 5 Tips For Direct Messaging Your Prospects
Trying to get a response from prospects on LinkedIn? I'm going to keep it short and sweet in this update. The reason I'm keeping it short is because the key to getting responses is to keep things short! So, here are some of the tips to help you with direct messaging your prospects.
Don't Write Like Emails
Often people write messages to read like an email. I don't.
One of my preferred messages follows these rules…
One question
Say their names at the end of the first sentence
Don't sign off like an email
Keep the message to 3 line max
Write how you speak. Keep your language conversational and DON'T write anything you wouldn't say in a conversation.
Dangle a Carrot
This message doubled my response rate and my team still uses versions of this today.
Is getting clients from LinkedIn a priority for [name]?
Would it be ok to send you a quick video with some tips and tricks?
or
Would you like some simple tips to attract more clients using your content?
I've used these to start a conversation, I typically would share a Loom video with some value and ask for a meeting or would offer to walk them through it on a call.
Make a No a Yes – Turn a No into a Yes
I actually learned this from someone else and adapted it for Direct Messaging.
Turn a No into a Yes.
The theory suggests that asking people to use 'No' as a way to agree with you proves to be more effective. Especially if people are busy and have a lot going on in their world. It's easier for us to decline or say 'No' to something than to say 'Yes'.
So, when we turn 'No' into a 'Yes' it makes people pause and really think about their answer.
For example…
Are you close to looking at new ideas to win more clients
Are you closed off to looking at ideas to win more clients?
or
Would it be a bad idea to suggest I show you on a 15-min call?
Negatives can sometimes help people see that turning down a conversation could be costly for them, so using a 'No' to mean a 'Yes' can make people process your message before they respond.
The key is to use it intelligently to avoid coming across as a slippery salesperson. 
Double Message
This is a good one that works well for me.
I sent a message referencing a link but deliberately didn't include the link.
I then sent a message explaining I'm getting old and forgot the link.
It gives you the ability to give people a bump without giving them a bump.
Works a treat for a nudge and gets some fun conversations going too.
Curiosity Kills Cats
People love to square circles.
We like to know things, especially when people don't give it up easily.
I tried this message and it worked brilliantly.
Can I ask you a question [firstname]?
[wait for a reply] – you can get loads of replies with this one. Especially if you have engaged with their content or they have seen you in their feed before.
Or you can try…
Who is best to speak to about bringing [company] more business from LinkedIn?
The aim of direct messaging isn't to blast people with information. It's about making people curious and want to know more.
So, these are the tips for this edition. Short, sweet and to the point.
Because that is the final lesson.
The best messages are simple and straightforward. No waffle, no nonsense and remember…curiosity makes a huge difference.
Go give direct messaging your prospects a try and please if you like what I do, share this with your network👍
Dean Seddon
I'm the maverick that helps business solve their No 1 problem; How to convince more customers to buy.
Grow With Our Micro Courses
For many, living the 9 to 5 lifestyle has been an unavoidable circumstance of their existence. It has become ingrained into our culture, so much so, that any job that
LinkedIn's newsletter feature helps you directly publish articles to your LinkedIn company page. Having a LinkedIn company newsletter will help you spread your brand message and increase your awareness on