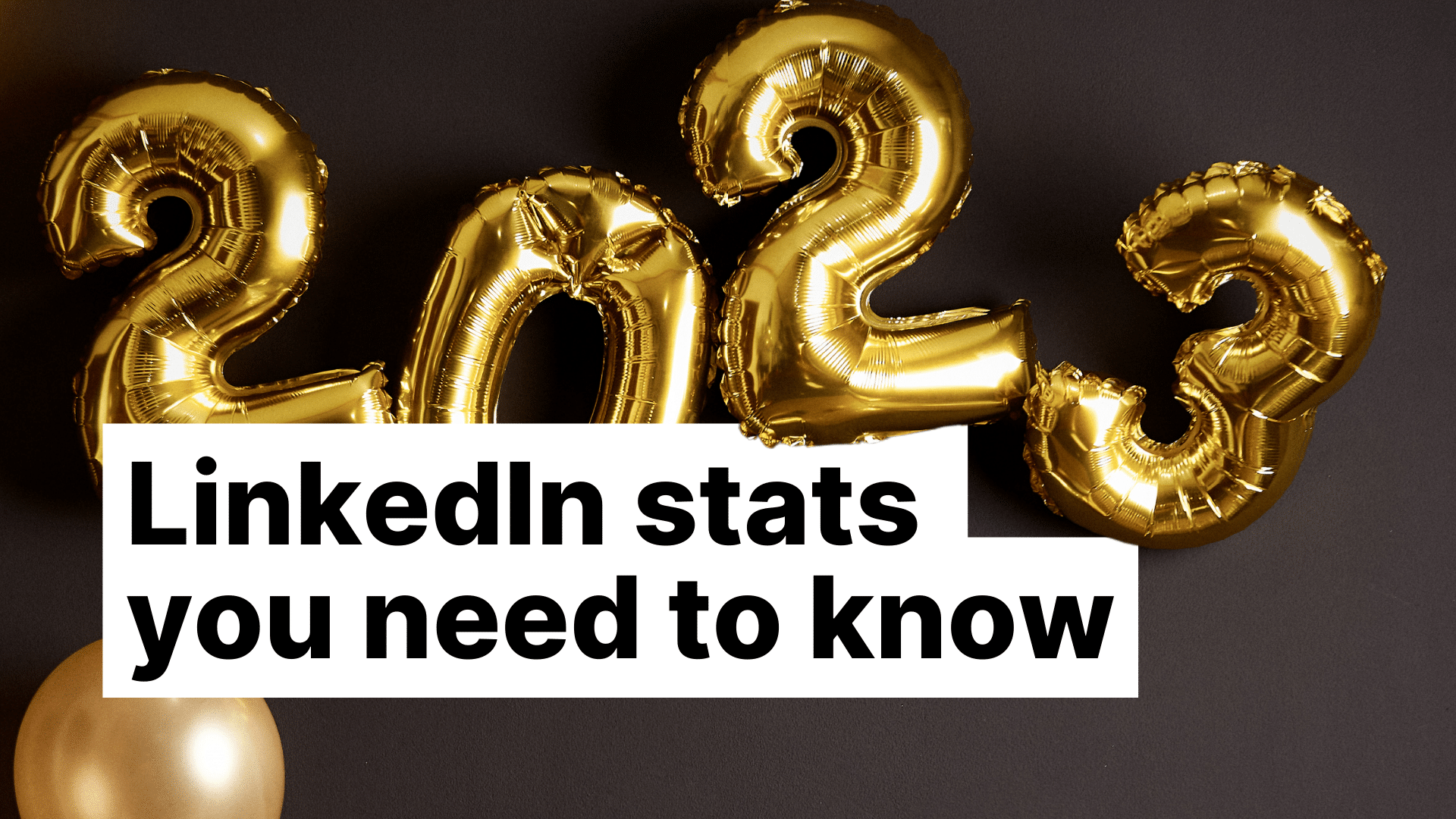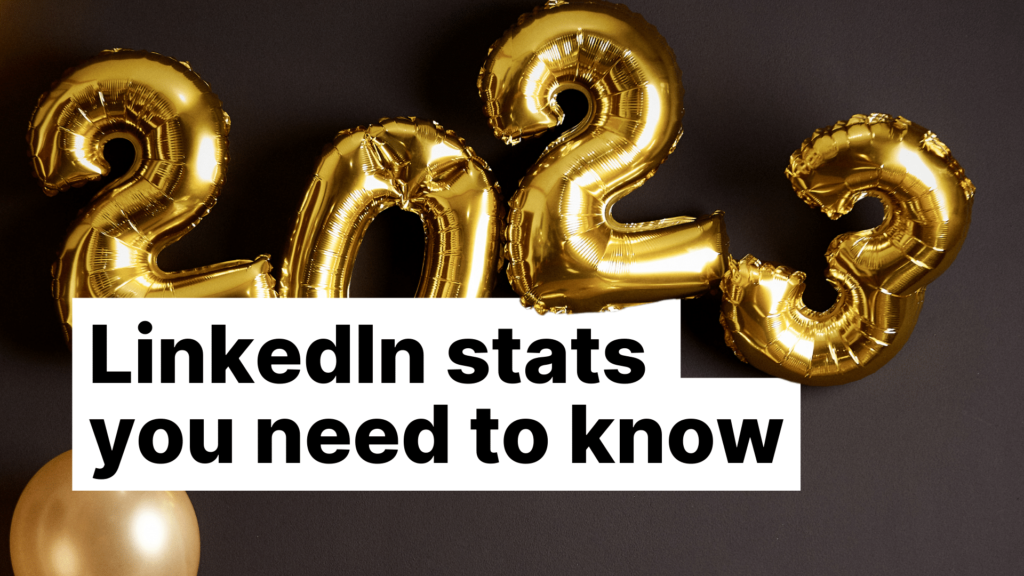 2023 LinkedIn Stats You Need To Know
These 2023 LinkedIn stats highlight what we already know. Sales has changed. Sales teams, entrepreneurs and business owners have all needed to adapt to digital and social in order to compete, grow and scale. Let's break these numbers down…
Sales outreach volumes globally have increased by 70%
The scale of outreach has risen over the years with more salespeople given the opportunity to leverage digital tools to speed up their process. Access to information is simpler, and executing outreach campaigns is easier to scale.
It's basically easier to connect and engage with more prospects thanks to social and digital than ever before. Reaching new prospects before cold callers could even dial in their numbers. This is why less than 30% of sellers rely on cold calling as an outreach technique. Instead, the practice of developing relationships online through LinkedIn and digital marketing channels has taken over.
LinkedIn Saw a 22% increase in Engagement
Social selling thrives on LinkedIn and the platform gained a big uptake in engagement over the past couple of years. 16.2% of about 134.5 million users are active every day. With a higher percentage of over 48% using the platform at least monthly.
40% of B2B marketers named it their most effective B2B lead generation channel. These leads are labelled as very promising by their sales teams. With tools like Live live streams which saw a sharp uptake in reactions earning 7x more reactions and 24x more comments than regular videos. These lives were opened to personal profiles, not just company pages with 9 million users turning on their new creator mode to get access.
LinkedIn is doubling down on engagement, creators and social selling tools as a platform for smarter sales strategies.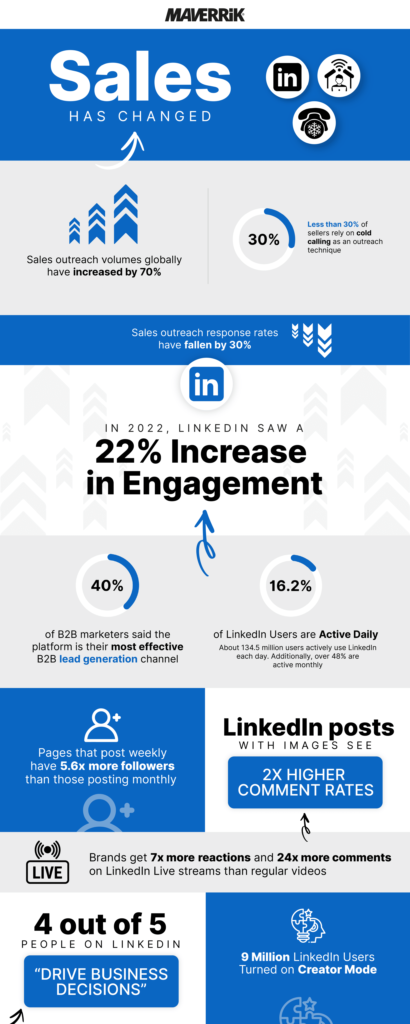 20 Insightful Stats about LinkedIn…
73% of buyers are more interested in salespeople who reach out on LinkedIn.
There are 65 million decision-makers on LinkedIn as of 2023.
Google is the most followed company on LinkedIn, with a total of 23.38 million followers.
8 people are hired through LinkedIn every minute
#India is the most followed hashtag on LinkedIn, with 67.6 million followers
LinkedIn is 20 Years old as of May 5th 2023
LinkedIn has 900 million users worldwide
People aged 25 to 34 account for 59.1% of the LinkedIn user base.
LinkedIn is responsible for 50% of the social media traffic that B2B blogs and websites receive.
LinkedIn posts with images receive twice the engagement
LinkedIn saw 150 million newsletter subscriptions in Q1 of 2023
97% of B2B marketers use LinkedIn within their content marketing
57% of LinkedIn's traffic is generated via smartphones
Businesses that post weekly double their engagement growth
2.7 million companies post on LinkedIn every day
280 billion feed updates are viewed every year
30% of a company's LinkedIn post engagement comes via their employees
Top executives make up 45% of readers of LinkedIn content.
Complete Company pages receive 30% more weekly views
10 LinkedIn Sales Stats that provides it's worth
LinkedIn is 277% more effective at generating leads than Facebook and Twitter.
Over half of the senior decision-makers vet a company's content before making a purchasing decision
Top LinkedIn performers have 45% more sales opportunities per quarter
44% of buyers share LinkedIn connections with their next vendor
82% of decision-makers say thought leadership increases trust in an organisation
Marketers see up to 2x higher conversion rates on LinkedIn
Sellers that use Sales Navigator in the UK close 43% larger deals compared to those who don't
Sales Navigator users make 3.7x more connections
LinkedIn Sales Navigator results in a +7% higher win rate when it comes to closing deals
LinkedIn Sales Navigator offers a +18% increase in the pipeline
According to MWP Digital Media, 54% of senior executives share work-related videos with colleagues at least weekly. This means it's not only outreach which is driving LinkedIn activity. With engagement skyrocketing on LinkedIn, the marketing and sales potential the platform is offering is driving more and more decision-makers to the platform. Looking to generate some brand interest and awareness. As well as develop their relationships with others.
If you're looking for organic reach with decision-makers to grow your business LinkedIn is the right place to be.