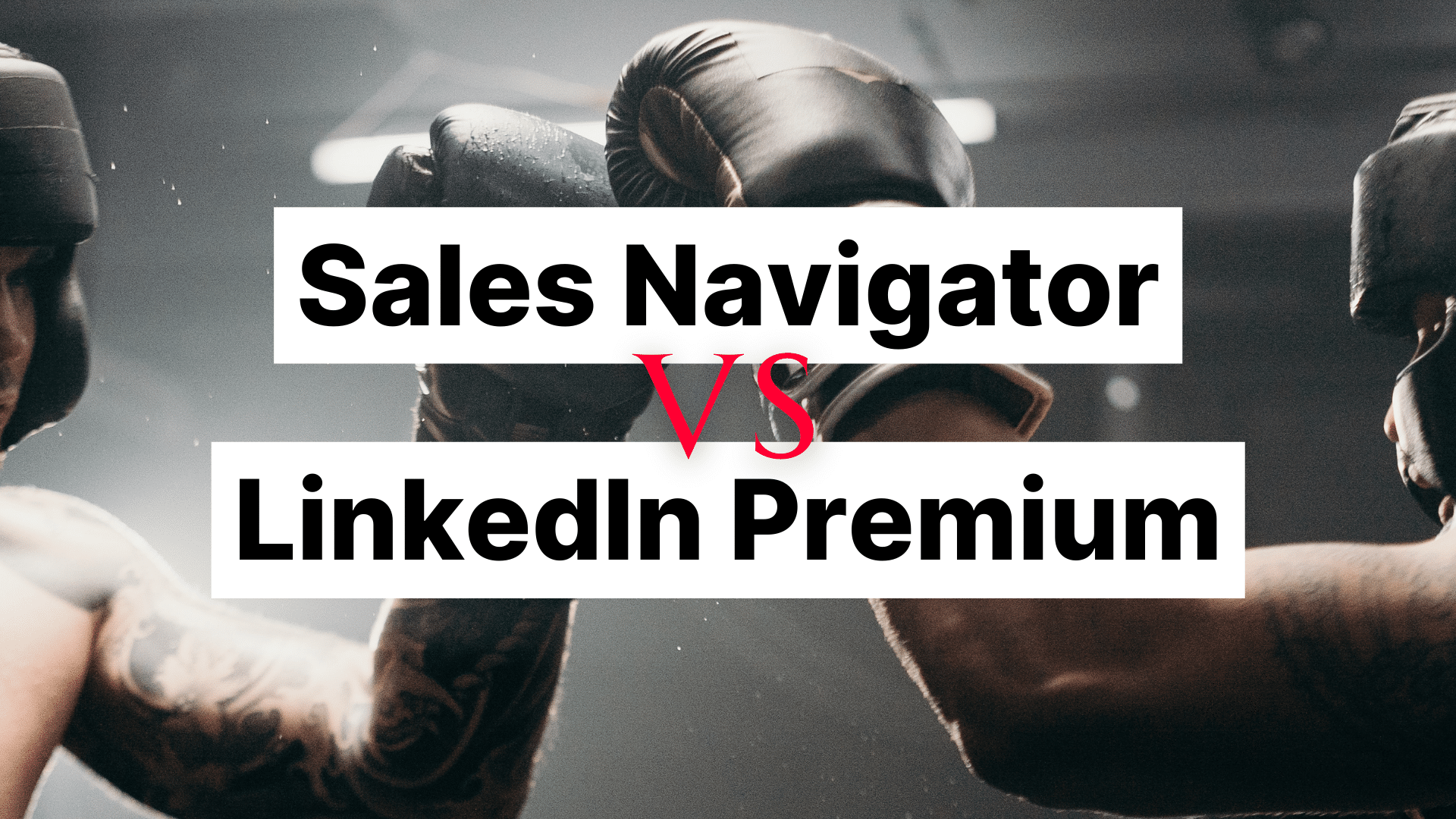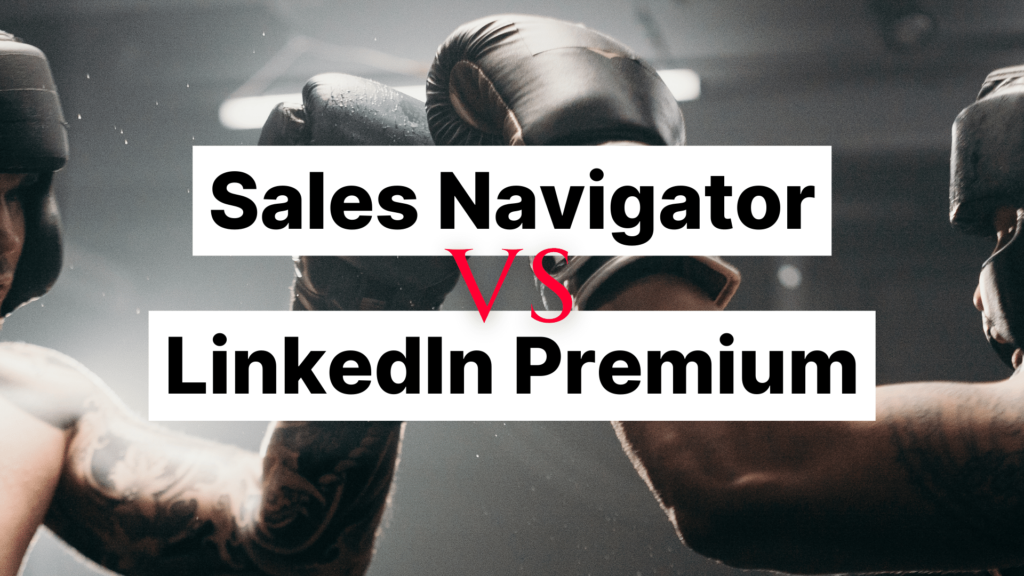 LinkedIn Sales Navigator vs LinkedIn Premium in 2023
When it comes to subscription plans for professionals looking to expand their presence and attain high-value clients, LinkedIn has got you covered. However, with so many options available on the platform, finding the right plan can be a real challenge between LinkedIn Sales Navigator Vs. LinkedIn Premium. 
LinkedIn Premium and LinkedIn Sales Navigator are arguably the most sufficient plans for those who intend to use LinkedIn for sales and marketing purposes.
While these two subscription plans are distinctly different, they provide features and tools that will enhance your success by supporting your efforts to supercharge opportunities and boost your LinkedIn game.
Let's talk about which one is right for you and how you can use LinkedIn Sales Navigator or LinkedIn Premium to get the most out of your LinkedIn. 
Targeted Lead Generation
Both plans offer a ton of extra features that make lead generation easier and more efficient. With these features, you won't waste time targeting people who either aren't ready to buy from you or people who just aren't interested.
The primary focus of LinkedIn Sales Navigator is lead generation. Sales Navigator provides users with advanced search filters and powerful prospecting tools to help you identify and connect with potential prospects more effectively.
With features like Lead Recommendations and Account Suggestions, LinkedIn Sales Navigator gives you the ability to discover and engage with the decision makers and thought leaders in your target industries.
If you decide to go with LinkedIn Premium, you can also access some great expanded search filters and also receive a limited number of InMail messages to reach more potential connections directly. However, when it comes to LinkedIn Premium, your search filters are limited. Unlike Sales Navigator, LinkedIn Premium doesn't offer the same level of targeted lead generation features, especially lead recommendations and account based insights.
Advanced Sales Insights
LinkedIn Sales Navigator allows you to leverage advanced search filters to identify your target prospects based on specific criterias such as their industry, company size, or job title. This contributes to your Sales Navigator's ability to help provide deep insight into the sales process. With LinkedIn Sales Navigator, you can receive real time sales updates that keep you informed about key activities and any changes within your target accounts. Additionally, LinkedIn Sales Navigator offers advanced CRM integrations, meaning you can sync and manage your sales seamlessly under one platform.
LinkedIn Premium on the other hand isn't sales-focused so the features aren't either. Premium subscribers have access to insights and analytics through features like 'Who's Viewed Your Profile' and they'll also gain limited insights into their professional network's activities. But if your goal is sales, with a LinkedIn Premium subscription, you won't have access to the guidance provided by LinkedIn Sales Navigator which directs you to make the best decisions for your sales process. 
Relationship Building and Communication
LinkedIn is recognised as the platform to build real relationships and engage in meaningful conversations, and that's exactly what LinkedIn Premium allows you to do. In comparison to a free LinkedIn account, a Premium subscription extends your messaging capabilities, allowing subscribers to send InMail messages to individuals outside your immediate network.
This feature is great but there are still some limitations. Those subscribed to LinkedIn Premium gain only a limited number of InMail messages and their ability to track insights for relationship development are somewhat still restricted.
Alternatively, LinkedIn Sales Navigator emphasises relationship building through its CRM-like features. Sales Navigator allows users to save leads, track interactions, and take notes regarding potential prospects. The features on LinkedIn Sales Navigator are there to supply you with enhanced communication possibilities and assist your efforts of building and maintaining relationships with your target prospects.
Price Differences
LinkedIn Premium has three subscription plans to choose from; Career, Business, Recruiter, and Sales Navigator. Each of these options give users a tailored experience depending on your own professional needs and goals. With the option for a 1 month free trial, LinkedIn Premium ranges from £19.99 to £99.98 monthly depending on the plan you opt-in for.
LinkedIn Sales Navigator is generally more expensive but priced accordingly due to the features it brings to the table which can open more doors especially for sales professionals. LinkedIn Sales Navigator also offers three subscription plans including; Core, Advanced and Advanced Plus, which also have their differences. Just like LinkedIn Premium, LinkedIn Sales Navigator also offers a 1 month free trial for users and has a ranging price from depending on the plan you choose and whether or not you'd like to pay monthly or annually.
Just remember, if you decide to claim your LinkedIn Premium free trial, you may not be entitled to claim your LinkedIn Sales Navigator free trial as it is available as an option on LinkedIn Premium.
So which one is for you?
When it comes to Sales Navigator Vs LinkedIn Premium both offer great additional features you don't have access to on a free account. But at the end of the day if lead generation and creating meaningful relationships with potential prospects is what you want, then LinkedIn Sales Navigator is probably the plan you want to go with. However, if you're more interested in gaining insights into your LinkedIn activity at higher volumes, then LinkedIn Premium is the one for you.