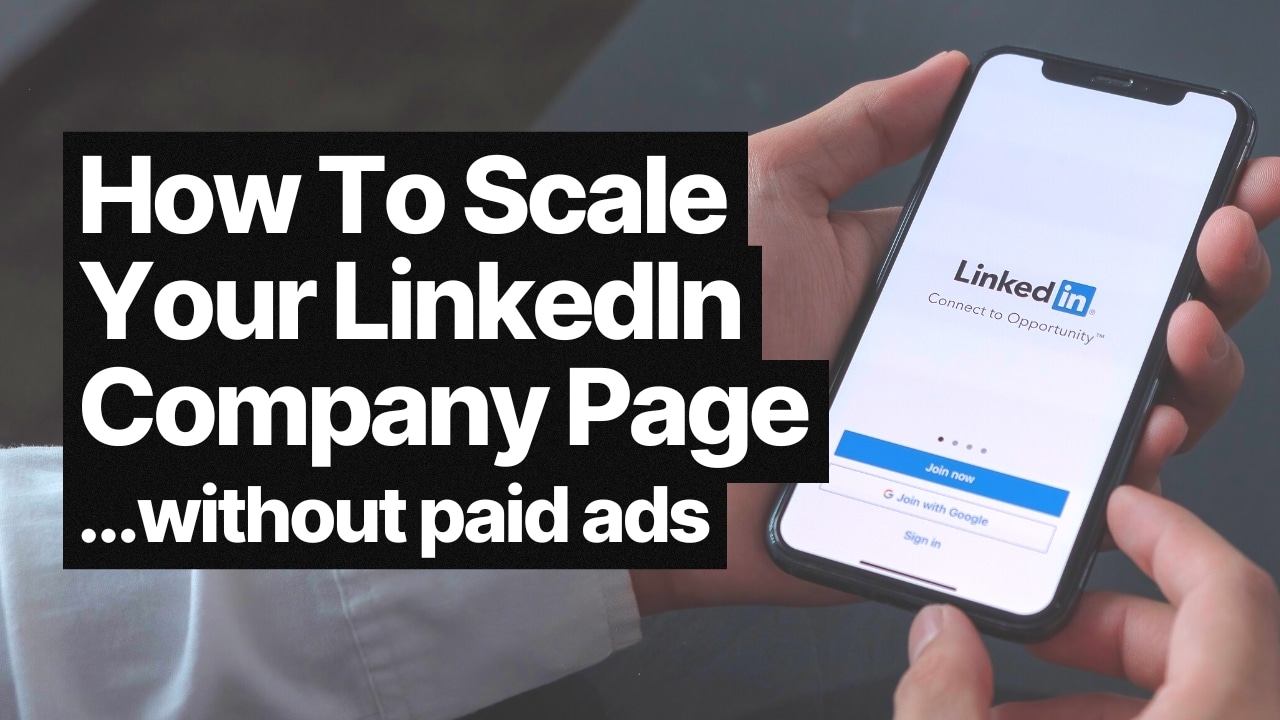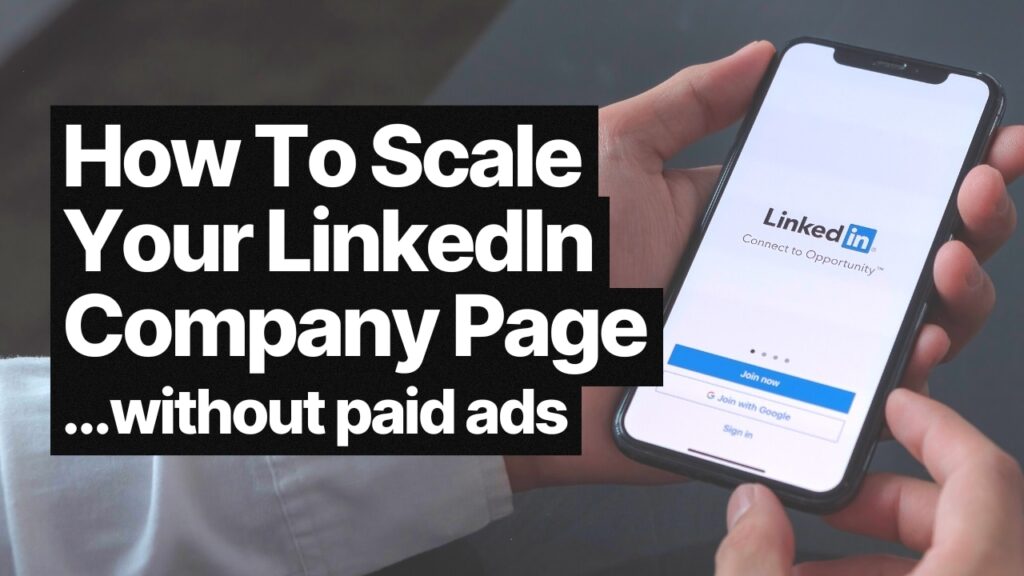 How to scale your LinkedIn Company Page and get more reach…without ads
LinkedIn's Company Page is one of the best corporate profiles you can build on any social platform.
But how do you make the page work for you?
How do you leverage the page to build brand and organic reach?
There are a few different schools of thought on the company page. The first is that 'it's a validator' for most businesses; a place to show they exist; a brand space to leverage and that it's a waste of time.
I've helped people generate more than a billion organic content impressions on LinkedIn over the last few years so I believe the company page can be a powerful tool for marketers when leveraged well.
In this article, we will look at how you can get more from your company page…. without spending on ads.
Content keeps your page alive
This is something many don't understand, making them wonder why their page with 15,000 followers is like a ghost town.
Frequent content posting keeps your page alive and if you don't post frequently, your page will drop off the radar of most of your followers….
But how often should you be posting?
I teach people to use a content recycling method where you post one unique piece of content to the page each day and then recycle 3 or 4 other posts on the page each day.
We do this and as a result, we hold around 50,000 content impressions per month.
Of course, you need to have a bank of content, which may take some time to build up. For around 3 months we focused on writing 3 blogs per week to give us a back catalogue of content to recycle across all our social platforms.
Engagement and Dwell time are the secret
If you aren't getting engagement and dwell time on your posts, it is a waste of time.
You need to look at the types of posts you're creating. If you're designing content which is predominantly 'broadcasts' or promotional, it's a surefire way to kill your audience.
Many businesses will post on the LinkedIn company page and then ask their employees to like and share it on their own profiles. What many don't realise is that this has a very limited effect and the key is to get dwell time and engagement on the original post.
Dwell time? Yes! For LinkedIn to log a view, someone has to spend 3 seconds on the post and what we're seeing now is that LinkedIn rewards content that gets more dwell time.
If you're including links within your content, one of the downsides is that if people click through, very rarely do they dwell on the post itself.
They don't navigate back to engage on the post either as someone engaging after reading a blog on your site will be few and far between.
So, you need to give a teaser of the blog as part of your posting.
One proven way to increase dwell time, likes and comments, is by asking questions.
I did a post recently where I increased the dwell time, but the post achieved zero engagement. The post performed well and I got 17,000 views, so why didn't I get the engagement?
The post itself was interesting, but nobody wanted to add an opinion. It's a bit like seeing an ad for erectile dysfunction… If you're a man of a certain age, you might be interested but you're not going to like and comment.
Without dwell time your posts won't succeed.
Remember – ask questions, seek opinions and create a conversation. Don't just share the link.
If it doesn't result in huge engagement, you will certainly see an uplift in the views, simply because you got people to stay longer on the posts.
Getting more traffic to the page
The biggest source of traffic for your company page will come from personal profiles.
An active personal profile could bring you 5–10 page views per day which doesn't sound much, right? When you encourage your team to be active on the platform, not only will that increase your brand reach, it will amplify the company page.
We did a survey in 2021 to track this down…. 31% of people check out the content, featured sections and company pages of people they interact with on the platform. 
When your team is active, your page will get more traffic. It's simple.
If each of your team posted once per week, that would increase your company page following and views. Now, what if they posted every day? Then we are talking about a whole other ball game of reach.
Additionally, if your team pins a link to a piece of content that's on your company page to part of their own featured section, every employee will be driving traffic to your company page.
Getting more Organic Followers
Getting more followers is easy, just run a follower campaign. Spend £50 per day and your followers will grow, except there is one small problem – What is the point in growing followers if they don't see your content?
I recently stumbled across a LinkedIn company page with more than one million followers. Their engagement was 18 likes on the most recent post, with the majority being from their own employees.
Huge followers, zero interest.
This is where you need to think smarter about your content, not the volume piece we discussed earlier. You have to create content which adds value, without a data capture form. PDFs and How-To style content is quick and easy to produce and can add huge amounts of value for your audience.
Even a regular LinkedIn poll can shake things up and bring some life to the page. Sometimes we miss the obvious and sharing heavy-duty stuff or promotional content all the time can be a bit boring.
Lighten the mood and show a bit of personality. Celebrate the team and share industry-relevant content which could spark some opinions.
When it comes to growing the following, frequent posting and a variety of content which adds instant value will be your biggest win. It's critical you don't push people to your website with every post.
Try to provide value on the page by sharing PDFs, polls, videos or images and create content on the platform, don't just use your page as a distribution channel.
Getting more reach on the platform
I've previously mentioned why sharing content from your LinkedIn company page isn't the best option. Instead, utilising the recommended content feature will get you way more reach. See below.
The recommended content feature is a place on your company page where you can suggest content for your team to use. You can pre-write content for your team to share directly onto their own profiles.
You're able to build a post containing core information and your company page tag, which will bring a good percentage of viewers across to check out the page, but each member of the team can then add extra post copy to make it personal to them.
You're able to write the majority of the post, and then encourage the team to add their own twist to the copy.
Implementing this will be far more effective than simply asking people to share your company page. It can make the difference between 500 views and 2500 views on one piece of content.
Important Note: Don't add any post copy you don't want to be shared, e.g don't put guidance or tips for the team into the post copy. Don't assume they will delete it as there is always one person who will post it verbatim and leave your notes.
LinkedIn Events
Many marketers miss the boat with this massive opportunity.
Sure, the LinkedIn event feature is a little clunky and it can't integrate with a CRM but it's one of the best data capture event tools that exist on a social platform. The ability to use the registration form and leverage personal profile invites is incredible.
You can do regular events to talk about industry news and give insights, building a more engaged audience on your page. Since we started doing this our engagement and followers have more than doubled.
The key is creating topics that are current and relevant to your target audience. If you want to use the events feature to sell, the topics should also be linked to solutions for your market.
You don't need Ads if you've got profiles
I did an experiment. I took 20 employee profiles and posted optimised content on those profiles daily for 3 months. They generated more content impressions and more lead magnet downloads than £20k of ad spend. Ads is the easy option, but it is expensive and despite what you may think, ads don't scale.
The problem with paid ads is the inconsistent results from month to month. Ad rules change, competition changes and when it does you end up struggling to make the amazing campaign keep working over a sustained period. The other issue is that as soon as you turn them off, the traffic and leads stop. That's why I'm a fan of organic.
Is it harder? In the short term, yes.
Is it more scalable and sustainable in the long term? Absolutely.
Building your organic content muscles as a business will serve you well. It will build a following that engages with you, unlike ads, where you are simply buying attention.