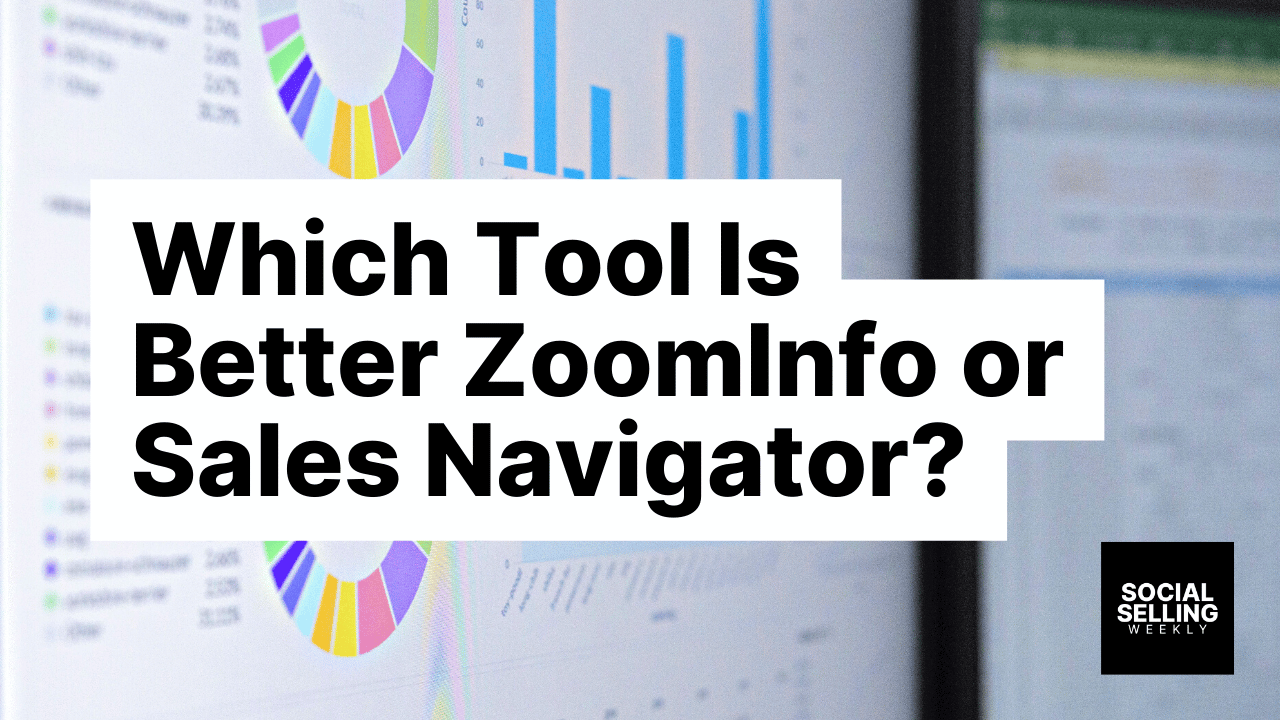 Which Tool Is Better ZoomInfo or Sales Navigator?
Both ZoomInfo and Sales Navigator are effective sales tools for different reasons that look the same.
But, which tool is better for your sales team?
ZoomInfo or Sales Navigator?
In many companies, ZoomInfo and Sales Navigator are pitted against each other. In reality, it isn't one or the other. They have completely different purposes.
In this article, we look at the differences.
User Data Vs. Data Collection 
ZoomInfo is the largest B2B contact database. ZoomInfo offers detailed information on companies and contacts, such as email addresses, phone numbers, and job titles. This can be useful as research and also for getting in contact with more prospects.
Sales Navigator is a sales-focused tool that is integrated with LinkedIn. Sales Navigator relies on user data rather than collected data as all the information from profiles, new content, and company growth is created from users themselves updating their profiles.
Sales Navigator doesn't have contact details. ZoomInfo does. So if your purpose is to get contact details, ZoomInfo is the winner for contact information.
Sales Navigator has a ton of rich insights, but not all prospects will be active, so being reliant on LinkedIn messaging might not be a smart move.
Also…
One thing which is worth considering is how up-to-date the contact information is, this applies to both platforms. ZoomInfo collects data and, in the time between updates, contacts change roles or move companies, so the data is only as good as it was last checked.
Since the pandemic, the drive for remote working, the pace of role changes and the ability to confirm records is more difficult. So keep in mind that a percentage of data may be out of date. This is where Sales Navigator can add so much value in checking records and ensuring you are reaching the right decision makers. One company's 'IT Director' is another's 'CISO'.
Conversely, LinkedIn will have more accurate data on the roles and decision-makers. As LinkedIn is a large part of the recruitment process, prospects changing roles will spruce up their profiles when they are looking for new roles and update them with the new role when they leave.
Whilst ZoomInfo has the contact details, Sales Nav can act as an extra check and ensure the decision makers are the right ones.
LinkedIn will help you identify and map out the right decision makers, ZoomInfo helps you contact them outside of LinkedIn.
The point of both of these platforms is to leverage data. Use the data to form the best approach to get in front of the right prospects.
You want the data to be relevant, and you need the data to be updated constantly so you're not chasing shadows. LinkedIn is an extra way to verify that a prospect on ZoomInfo hasn't moved on.
Role changes are also an important part of Sales Navigator as you can follow a prospect and stay connected with them. With a lengthy data list, before you reach the bottom of your list you'll be contacting a CEO that's already left the company.
This is where user data beats simple collection.
Whilst Sales Navigator doesn't have contact details it is a more accurate way to find decision-makers.
Information VS Insight
The big benefit of ZoomInfo is the ability to access hundreds of millions of records containing emails, phone numbers etc. It delivers on that better than any other data platform that is offering contact details.
It's a very useful directory which can help your sales team reach out to more prospects.
The key to that is how it is then leveraged.
LinkedIn Sales Navigator, lacking in contact details, can be augmented with ZoomInfo, to tailor a more sophisticated outreach strategy.
Sales Navigator has rich insights into the companies, and their growth as well as being able to research prospects in more detail.
A CISO on ZoomInfo is a Tottenham supporting CISO on LinkedIn.
A CISO who also has a lot to share about the future of Crypto.
The CISO has 4 direct reports and that the company is growing its employee count in London.
Why does this kind of information matter?
It creates conversation hooks, which allow reps and BDMs to engage in a way which is more human and gets more response.
These rich insights allow you to tailor your outreach and the difference between being ignored and getting a response.
With Sales Navigator adding buying intent, it gives so much information for sales teams to make more intelligent decisions about how they choose to engage their prospects.
Let's be real for a moment.
All our prospects are getting bombarded with emails and messages from salespeople.
Our prospects now triage their inbox.
They engage with the people they know.
They ignore anything that does catch their eye or look relevant.
So contact details alone aren't the key.
Combining the data from LinkedIn and ZoomInfo can be a powerful way to get more success in selling. LinkedIn's user data can help you focus the outreach using ZoomInfo contact data.
We've seen that if a BDM or Rep has engaged in a non-salesy way with prospects on LinkedIn in the two weeks prior to outreach, there is a 258% increase in positive response rate.
Contact information is great, but without insights and strategy, it's really just a telephone directory.
Useful, and essential, but not going to help you improve your team's effectiveness.
Likewise, Sales Navigator and LinkedIn messaging is a tool to engage prospects and move conversations off the platform. One of the big mistakes sales teams make is trying to achieve too much (pitching) on LinkedIn. 
LinkedIn is a door-opening tool. It's there to open up relationships, get conversations started and take it off to email or a discovery call.
ZoomInfo is essential for getting contact details in larger volumes. You can download 2000 targets and start cold emailing. Sales Navigator will help you create a more effective and targeted outreach strategy, leveraging insights to email with a deeper understanding of the prospect and the business.
In the end, it all comes down to using data and insights to create the best strategy for reaching the right prospects.
Dean Seddon
I'm the maverick that helps business solve their No 1 problem; How to convince more customers to buy.
Being a leader can come naturally to some people, but even then some qualities have to be developed over time. There are some important traits you need to be a
Outdated contact information on LinkedIn is like trying to network from the Bermuda Triangle. If you're an avid LinkedIn user (and you should be) then you have probably been posting