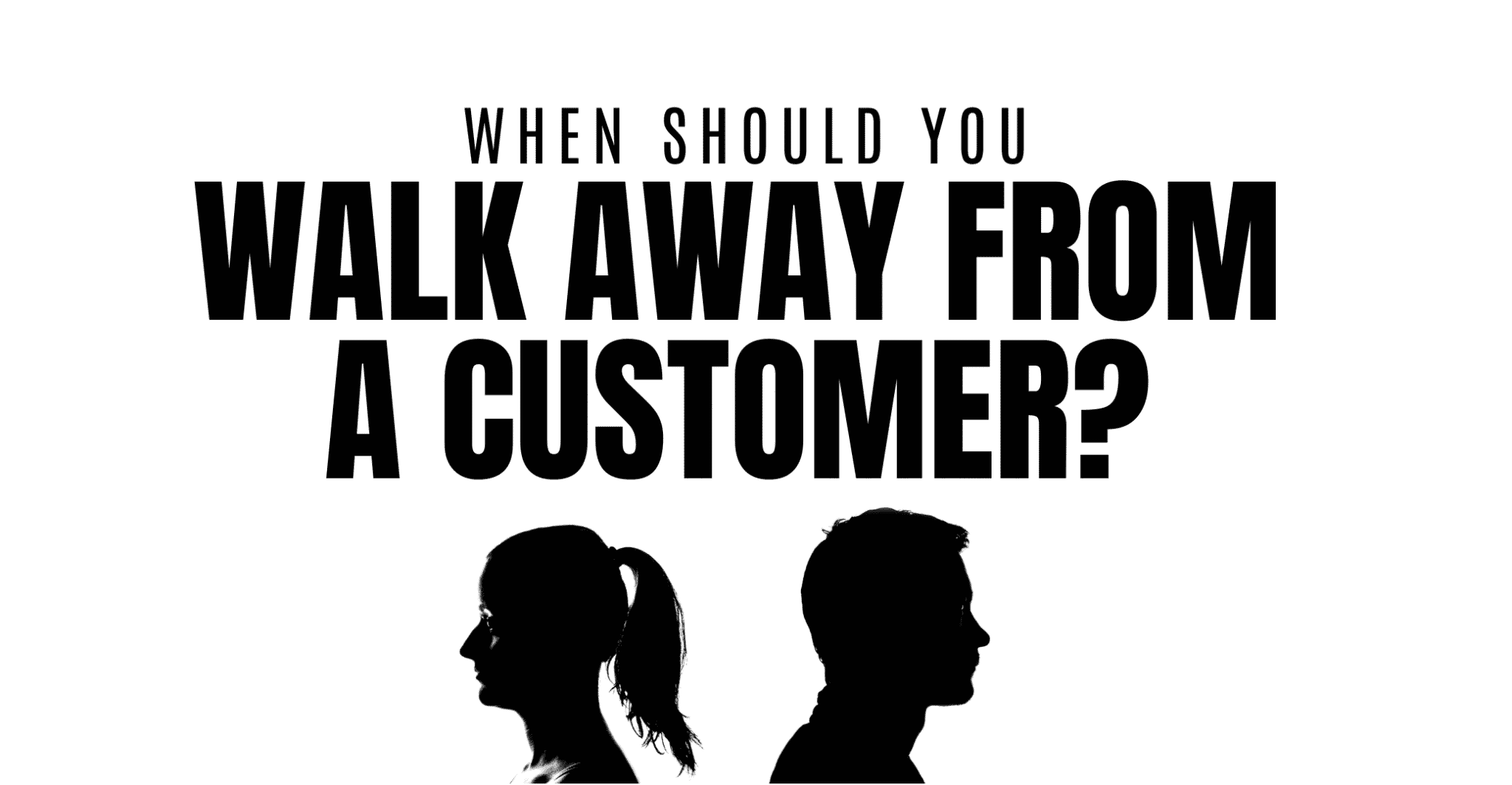 When Should You Walk Away From A Customer?
It seems counterintuitive to walk away from a paying customer.
When they're willing to pay for a service that keeps your business running, why should you say no?
When a customer is not a good fit for your company, they're unlikely to be happy with your product or service.
The triggers are plentiful: late invoices, missed meetings, and lopsided expectations. No matter the reason, a toxic business relationship can put unnecessary strain on you, your employees and the health of your company.
So, with that in mind, when should you walk away from a customer?
Customers That Bend Your Standards
The first customer to avoid are those that try to bend your standards.
Whether it's requesting price reductions, or expecting special treatment that your other clients don't receive; these requests just keep coming in.
The short-term gains from these clients aren't worth the extra strain on your employees and resources.
The fear of missing out often forces us to stay in these business relationships, even when we know we shouldn't.
Would You Hire Someone That Didn't Fit?
A good way to look at this is to consider your hiring process.
Would you hire someone that wouldn't fit into the culture of your business? Probably not.
So why would you do business with someone who isn't a good fit?
Make Use of The Discovery Call
The discovery call is crucial in determining whether a client is a good fit for your company and if you're a good fit for them.
However, many businesses use the discovery call to explain their service, rather than getting to know the client. 
Use the discovery call as an opportunity to learn more about their expectations, and ensure that they're in line with your service.
If you experience difficulty during this process, it's a good indicator that the relationship going forward will be challenging.
Trust Your Gut
Ultimately, my advice is to trust your gut.
While there are innumerable warning signs that may arise during the discovery process, I believe you'll be able to identify a problematic client when you see them — and you'll know when to run.
Grow With Our Micro Courses
The countdown to the new normal is on. With any luck, we might see the return of in-person networking, events and more returning by the end of the year. However,
There's nothing worse than investing effort into something that produces little to no results. Social media is notorious for this because of continuously changing algorithms, rules and limitations. For the