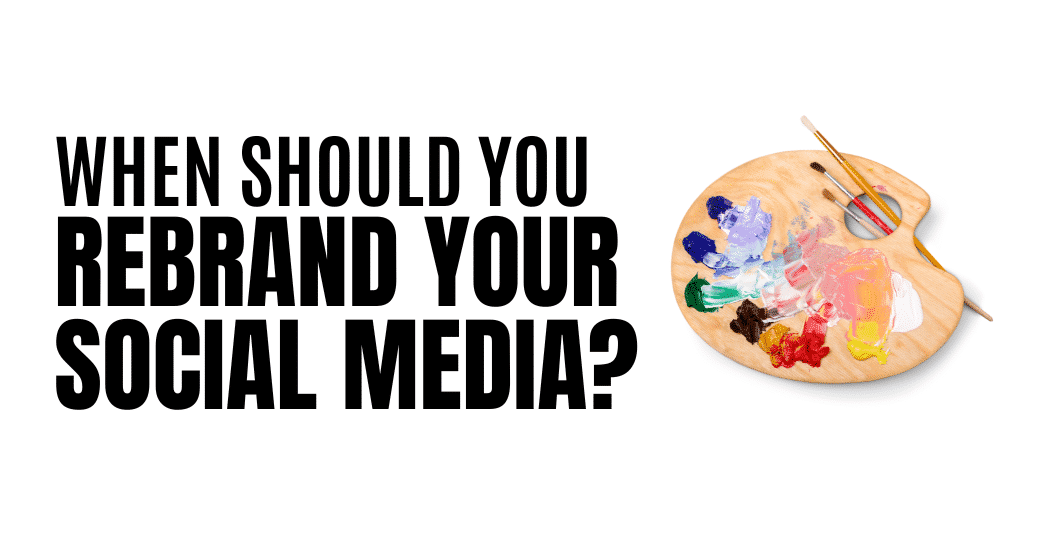 When Should You Rebrand Your Social Media?
When it comes to rebranding your social media, the stakes are high.
Consistent branding is one of the most important factors in keeping your network engaged and seeing growth. By rebranding, you risk alienating that network and losing all of your hard work.
But there are times when a rebrand is exactly what's needed, and although it's daunting, you might actually be hurting your business by not carrying it out.
So, when should you rebrand your social media?
Your business is shifting focus
Whether prompted by a change in the market or in your business itself, shifting focus as a business is sometimes necessary. It might mean focusing on a new product or service that you are bringing out, or making changes to your brand to better reflect your values.
Either way, communicating this shift in focus to your social media network should be made a priority. While you may not need to perform a complete rebrand, you will probably have to change your social media branding to some extent.
This could mean changing up the visuals, like creating a new background photo for the company and employee LinkedIn profiles. It could also mean changing what is posted on social media, and maybe even the brand voice used in the post.
These changes in branding should be purposeful and reflect your business's shift in focus.
You are struggling to stand out
Effective branding will help you to stand out on social media. If you are struggling with this, then it might be time for a rebrand.
Standing out from the crowd is always an advantage, but for some businesses, it is especially important. If, for example, there are many other businesses selling a similar product to you on the platform, then making sure you are seen is essential. Even if what you have to offer is better than the competitors, it's not going to matter if you've got no eyeballs on your business.
A rebrand could be the change you need to grab people's attention, grow your network and establish your business on social media. It might mean making a financial or time investment, but can bring with it a far greater success by getting your business noticed.
You have unhappy customers
Nobody wants their business to get a bad reputation.
If things aren't right and your customers have complaints, you should be able to come to a resolution and learn from it. But sometimes, even minor issues can get out of hand and it can be difficult to turn it around.
Rebranding your social media can be useful in this situation, not as a way of avoiding or hiding from these issues, but as a way of addressing them.
If you are seeing more negative comments on your social media, being called out by competitors or dealing with some backlash, then a social media rebrand can act as a hard reset that will help you reestablish your business. Whatever the negative image of your business is, the rebrand needs to counteract it. If, for example, you are being called out for poor customer service, then a friendly and approachable rebrand would offer a fresh start.
The important thing is to follow through with it. A disingenuous rebrand will not get you far. Your rebranding should align with a genuine change in how your business is addressing the specific issue.
Social media is a great tool for your business, but to build a valuable network, you need to maintain an honest and consistent brand identity.
A rebrand risks alienating your existing network and could be damaging. But if done carefully, with a specific goal in mind, a rebrand can reframe your business and boost social media success.
Grow With Our Micro Courses
We are spoilt for choice when it comes to podcasts. But, having so much choice has made it much more challenging to find the podcast you are really craving. For
How are you going to raise your prices? Instead of a modest 5% inflation increase, how do you raise your prices by 50% or more and still have people willing