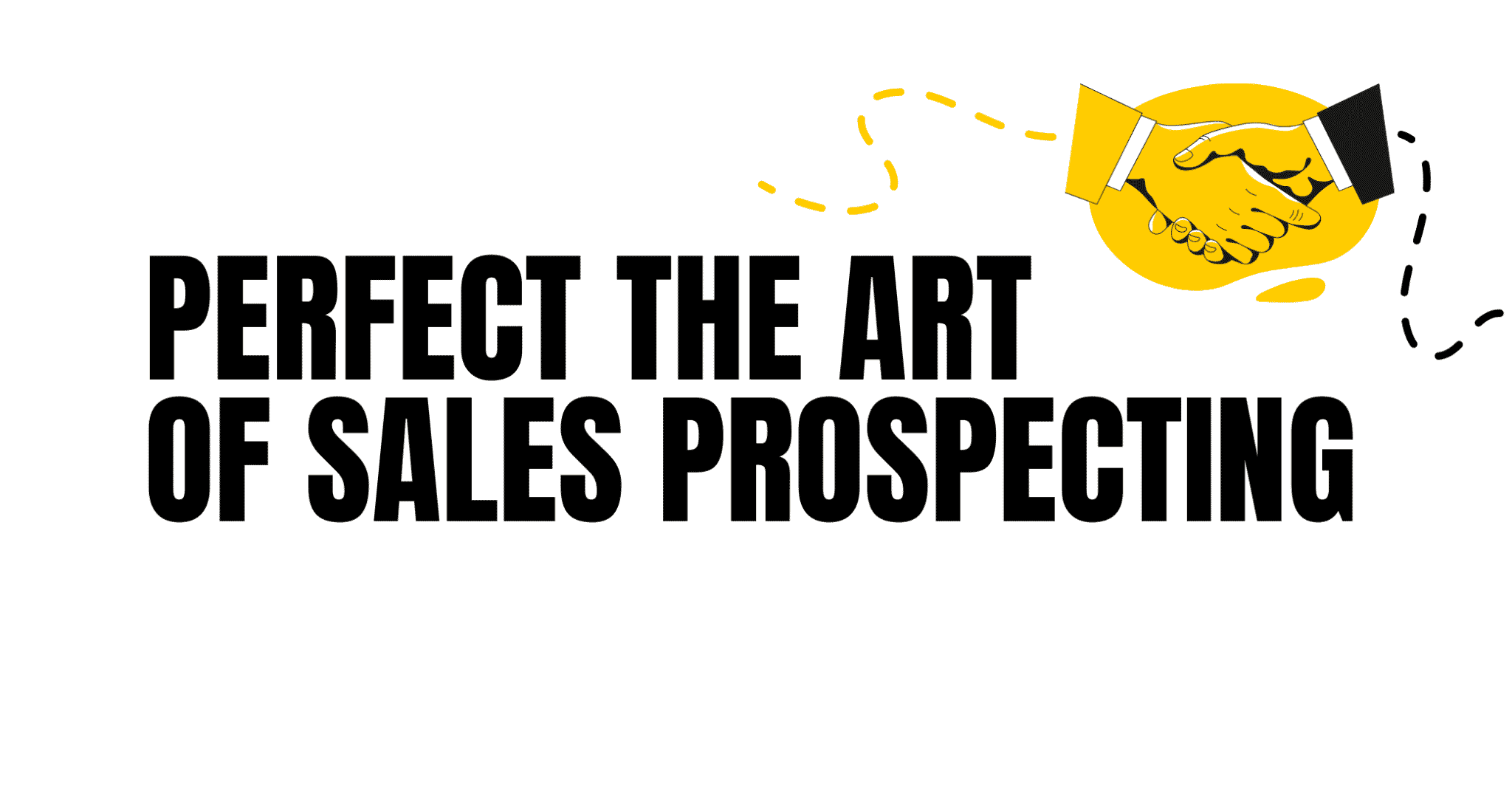 Perfect the Art of Sales Prospecting
Imagine this. You're having a coffee, catching up with an old friend, but you've got the feeling that they aren't really listening to you. They're distracted, constantly checking their phone or watch, and you just feel like you're wasting your time.
Essentially, that's what selling without prospecting is like.
Your pitch could be the best you've ever delivered: elevated, full of tonnes of research and entirely framed around the buyer's needs. But, if you're talking to the wrong lead, your pitch might as well have been mimed in black and white.
So, prospecting ultimately ensures time isn't wasted, for both the sales rep and the prospects themselves.
But, what actually is sales prospecting?
Before you start sales prospecting, it's important not to get them confused with a lead. Leads are potential customers that have communicated that they're interested in your business through subscribing to newsletters or a free trial. Prospects are slightly different. They're leads that have become qualified, so they align with your target audience.
Prospecting encourages you to research your prospect and their business to see if you can provide a valuable product or service, prioritise your prospects, prepare a personalised pitch and craft a custom introduction. It's a valuable part of the sales process that will boost your sales tactics.
5 Must-Have Prospecting Tools
I've rounded up 5 of the must-have (chrome extension friendly!) tools for sales prospecting, so let's get into it.
Cognism
Cognism is a platform that delivers mobile numbers and B2B emails of people you want to do business with. Their service gives you unrestricted access to personal and company-level data with international coverage, allowing you to go global. This comes all on a programme that's really easy to set up, allowing you to access everything on-demand. With Cognism, prospecting has never been easier.
Clearbit
Clearbit allows you to build high-fit, high-intent prospect lists. Their data activation platform gives you one place to enrich, combine and activate your B2B data. Utilising Clearbit encourages you to start conversations – identify those people behind anonymous visits, alert sales when key accounts engage and support your outbound sales. Discover those opportunities you might have missed.
ZoomInfo
ZoomInfo stands to be a global leader in go-to-market intelligence. Their SalesOS enables you to maximise productivity, accelerate pipeline and reach the revenue potential you couldn't even imagine being possible. Their data-driven insights, combined with buying signals, reveal ready-to-buy companies. Boost your engagement by generating and analysing interactions across communication channels, opening up more conversations.
Lusha
100 million business profiles can be found on Lusha, with the platform holding arguably the most accurate data you'll ever find. Their bulk enrichment tool allows you to prospect at scale, whilst the opportunity to automate your sales process and filter prospects by seniority separates Lusha from competitors. Pushing you to reach the right decision makers, Lusha lets you spend more time selling.
LeadIQ
To improve your pipeline, you need LeadIQ. They make outbound planning easier and faster, preventing those valuable accounts from slipping through the cracks. Their services can also increase deal sizes with target accounts, letting you win more qualified opportunities. LeadIQ works with the tools your team uses every day, including LinkedIn, GSuite and Slack too – so it's a win-win.
Tools used for sales prospecting have evolved significantly over the years. You don't need to waste valuable time finding leads and creating lists – there are tools available for every stage of the prospecting process. Gone are the days of facing rejection after rejection. Utilising these tools to streamline your prospecting efforts will help you find those hidden leads.
If you'd be interested in hearing about any other ways to boost your sales process, don't hesitate to get in touch!
Grow With Our Micro Courses
LinkedIn is an incredibly useful tool when it comes to making sales online. Not only are you able to find and connect with potential prospects, but it allows you to
Broaching the conversation of diversity and inclusion in the workplace can often be a topic avoided and feared as too taboo to mention. Often people worry they'll get things wrong